Who determines Value in this market?
Professional appraisers sum up their entire body of knowledge in three words: "Buyers Make Value." meaningYour home is worth as much as a buyer will pay for it.
If your home has been on the market for weeks and possible months, it's a clear message that the property may not be worth what you're asking for it because the buyers are there. What you do at that point depends on whether you really want to sell, and whether you're working with a time limit.
If you're not really motivated to move soon, you can always wait and hope inflation will catch up with the price you want. The problem is that in that time, your home begins to feel shopworn. Buyers become suspicious of a house that's been for sale for a long time. They are waiting with an offer on your property, hoping for a price reduction. Once you are starting to reduce the price of you home, some buyers are keep waiting for the possible next reduction.
See below a graph indicating the diminishing interest of the buyers over the listing period. Only during the first few weeks the interest in a property is high.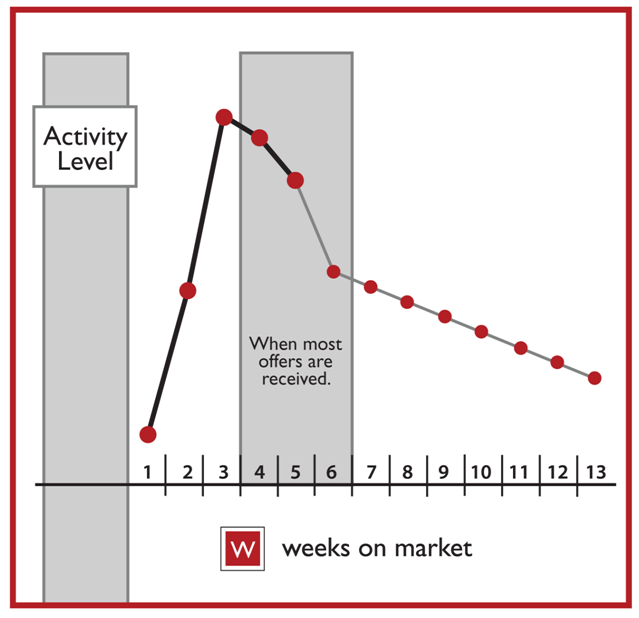 I will illustrate during my listing appointment what a fair market value is for you home right now. Then we will determine the right strategy for you. Sometimes we need to make price adjustments to compensate for a feature you home laks which we thought would not be such a big negative. For example, we may find out that every visitor is telling us that your yard is too small in comparison to the competition, active or sold. We may need to make an adjustment for that and reduce the asking price to a level that attracts buyers. There's no point in saying, "We simply can't sell our house."
But every situation is different. Call me and we will analyze your individual situation.