We are experiencing a slowly shifting market. What does it mean for Buyers and Sellers?
1. Sales Pace Slowing Down
We have seen a slowdown in the sales pace in recent months compared to the same time last year. In other words, while it is still a seller's market, now it is less crazy. It is NOT a full reversal, and with a lower housing inventory than last year only the pace at which houses are selling is slowing down. This does not mean that home values are falling. But this trend of a slower sales pace will have its consequences.
Below you see last year's contract sales in New Jersey, which were at the highest level ever after the initial shut down in March of 2020. Early this year we started again strong, but since June we are experiencing a slower sales pace.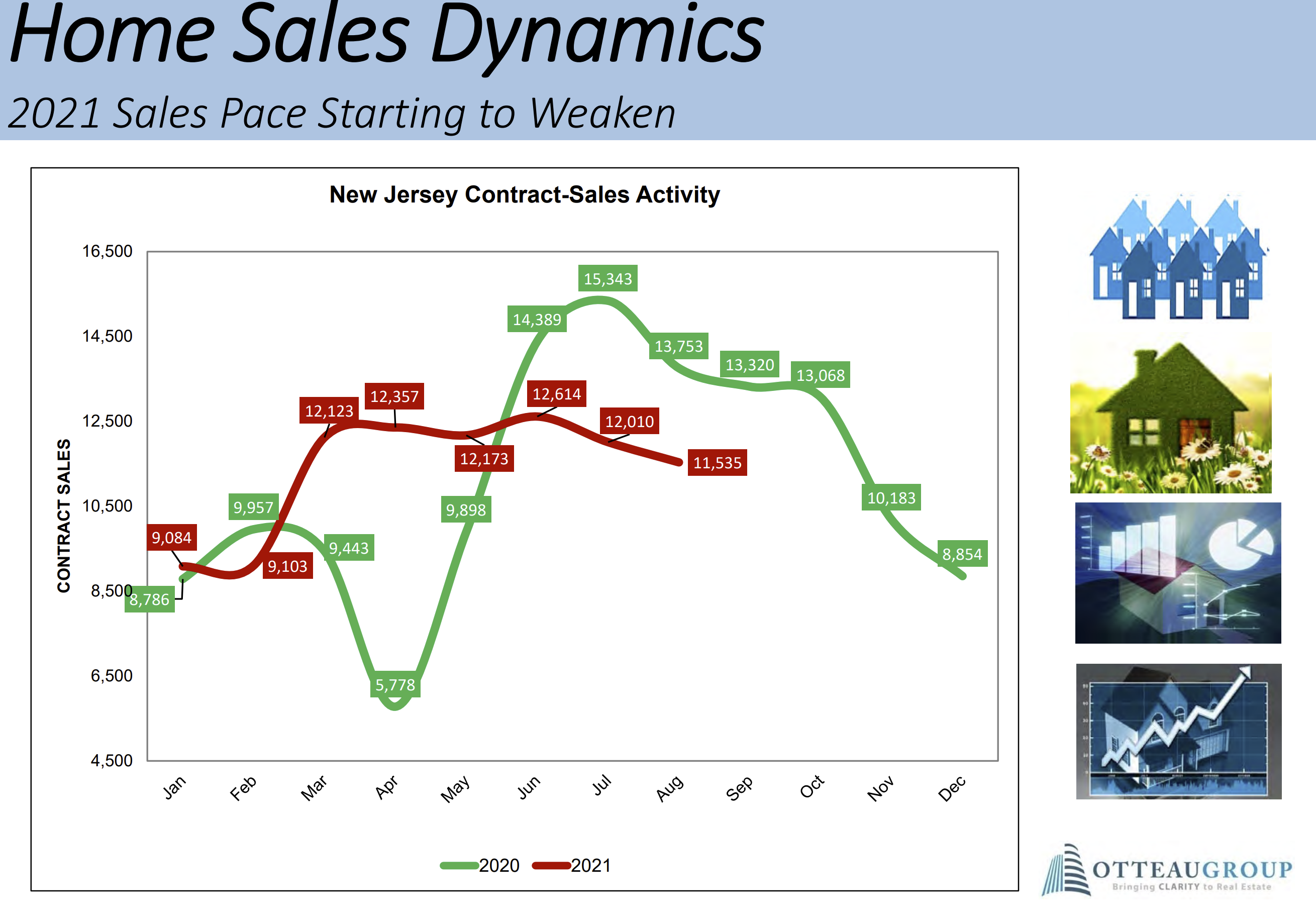 The same trends hold true for Bergen County. Below you can see how in May 2021 sales exceeded last year's levels but how they have since declined on a month-over-month basis during the months of June, July and August.
In the period between January through August 2021 compared to the previous year, we saw more New Listings (+0.4%), more Pending Sales (+9.1%), more Closed Sales (+27.5%) selling at a higher Median Sales Price (+13.4%) and at a higher Average Sales Price (+15.9%).
However, the slower sales pace that started in June has continued through August so far with fewer New Listings (-11.2%), fewer Pending Sales (-17.6%) and fewer Closed Sales (-3%).
May 2021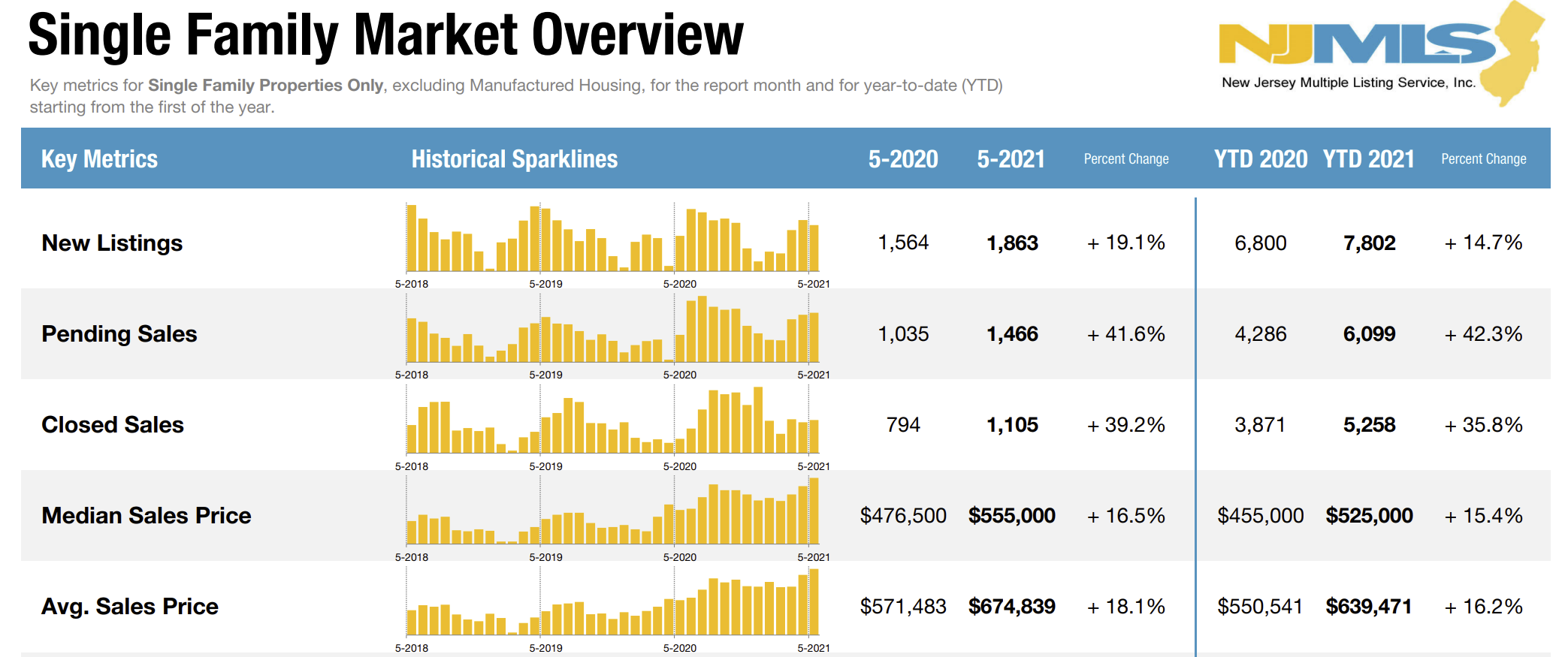 June 2021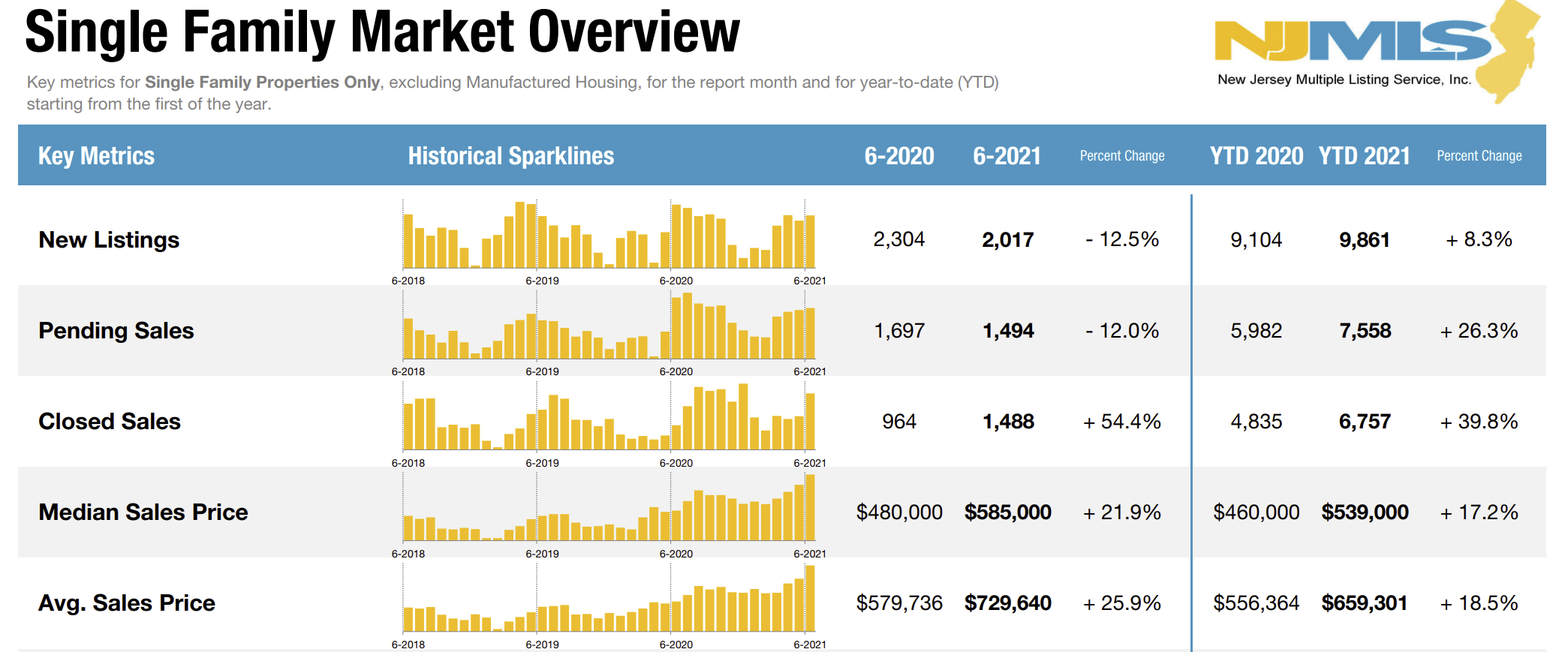 July 2021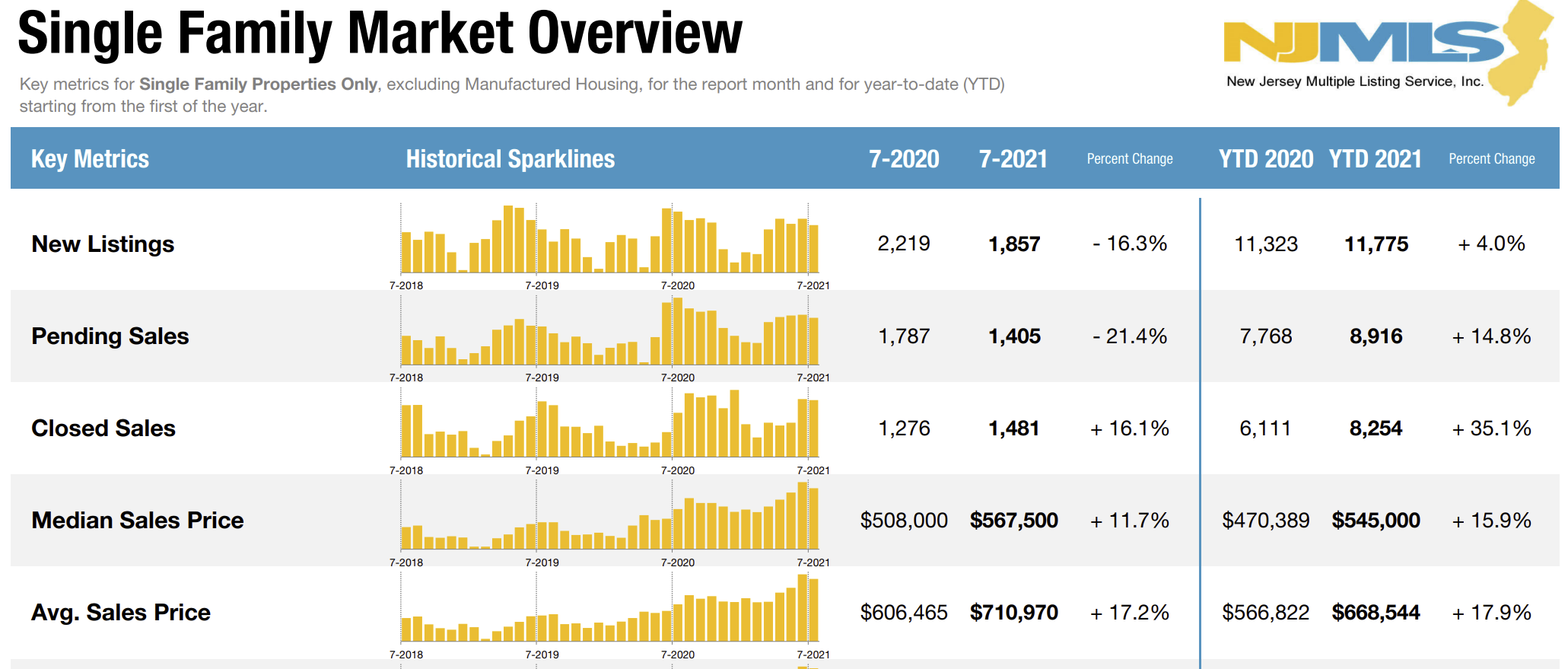 August 2021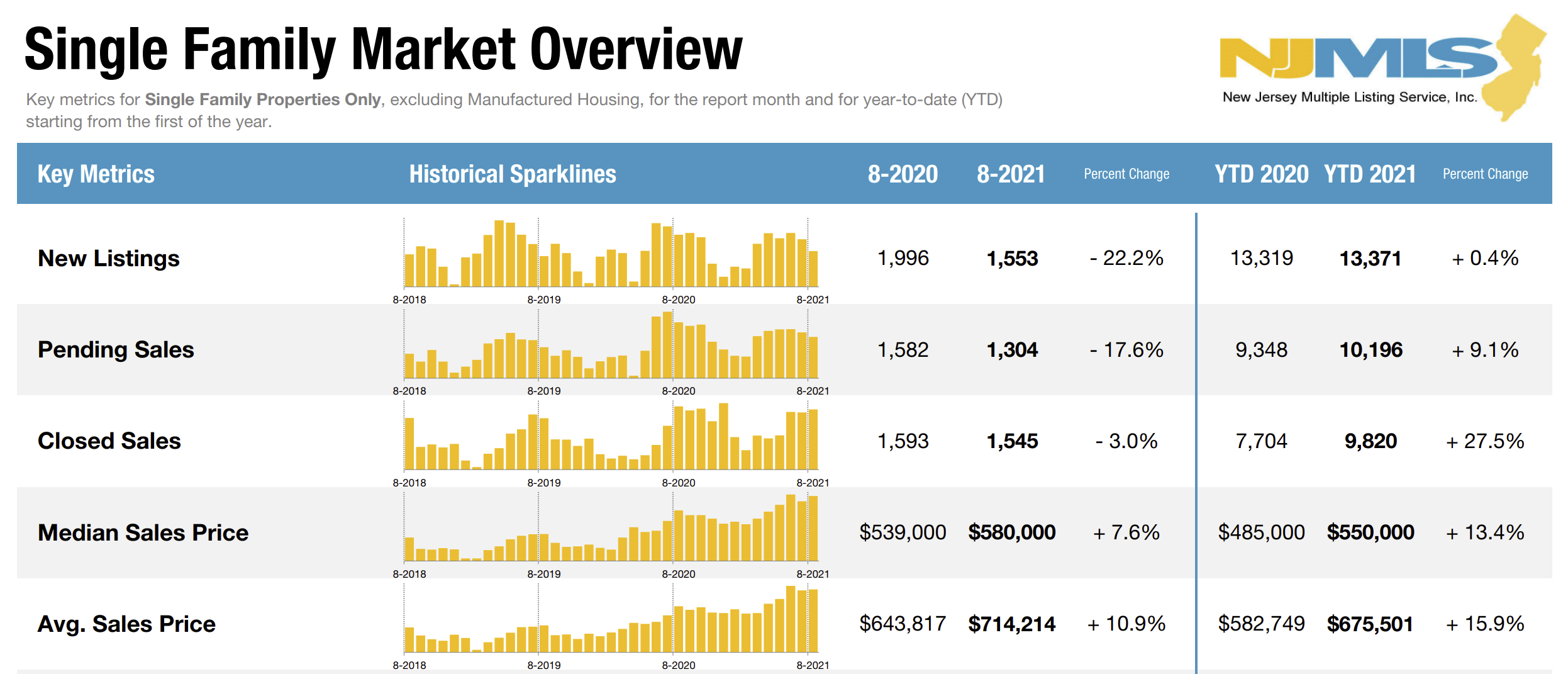 While sales are still strong compared to the pre-COVID years even though this slow-down trend will continue, we have to realize that we still have record sales compared to all previous years – see below.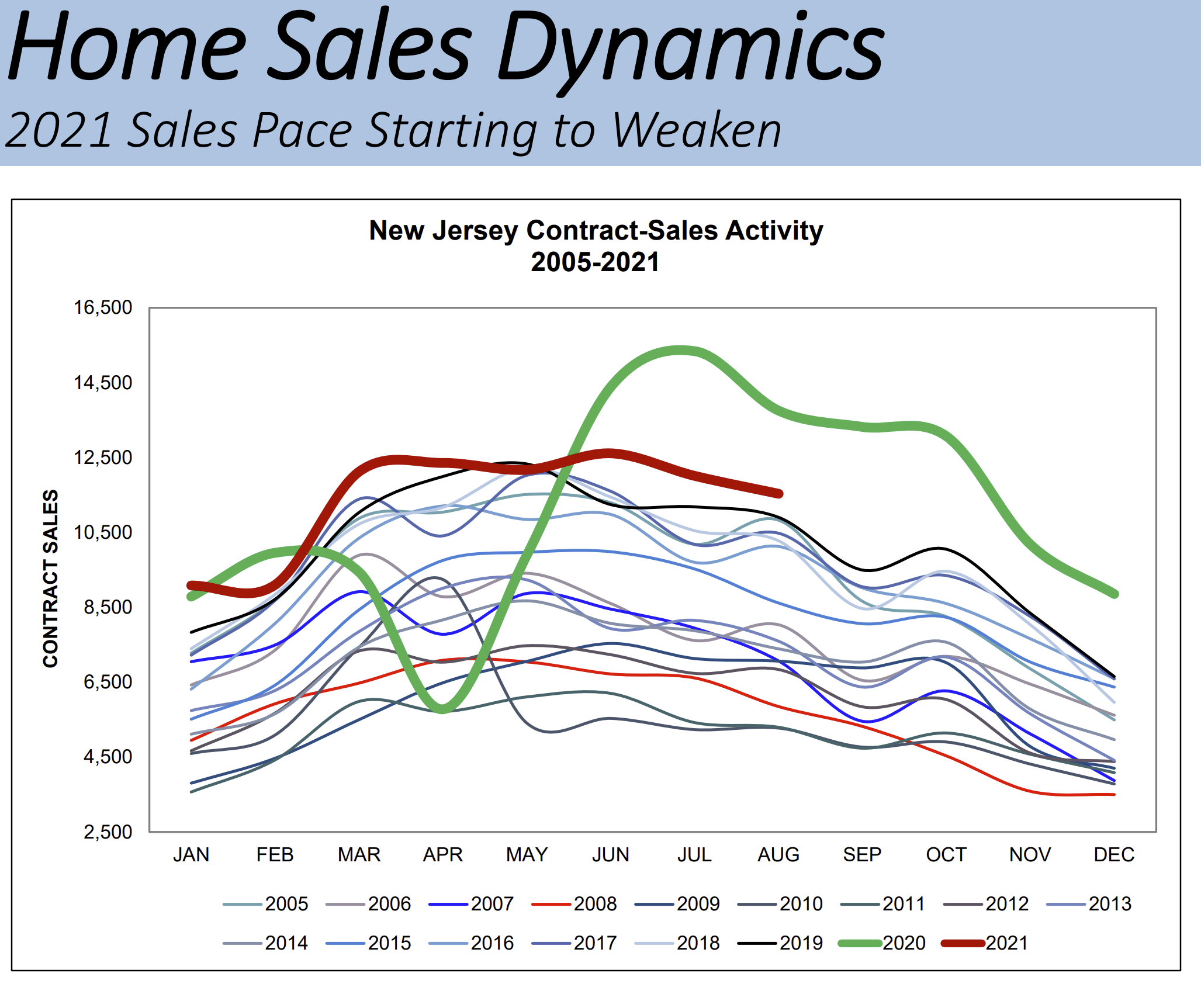 2. Volatile Interest Rates
Interest rates are bound to rise in the not too distant future to keep up with inflation. We have seen them bouncing around already since March of this year due to fear and talk about inflation.
When interest rates rise, a buyer's buying power diminishes. Every 1%-point interest rate increase will increase the monthly mortgage payment for a house by 9%, making the house essentially 9% more expensive. Just looking at the simple math, that means that a buyer at a 2.875% interest rate today who qualifies for a $500,000 loan will only qualify for a $455,000 loan after the rate has risen from 2.875% to 3.875%. By the time that rates have risen, home prices will have risen as well diminishing purchasing power even further.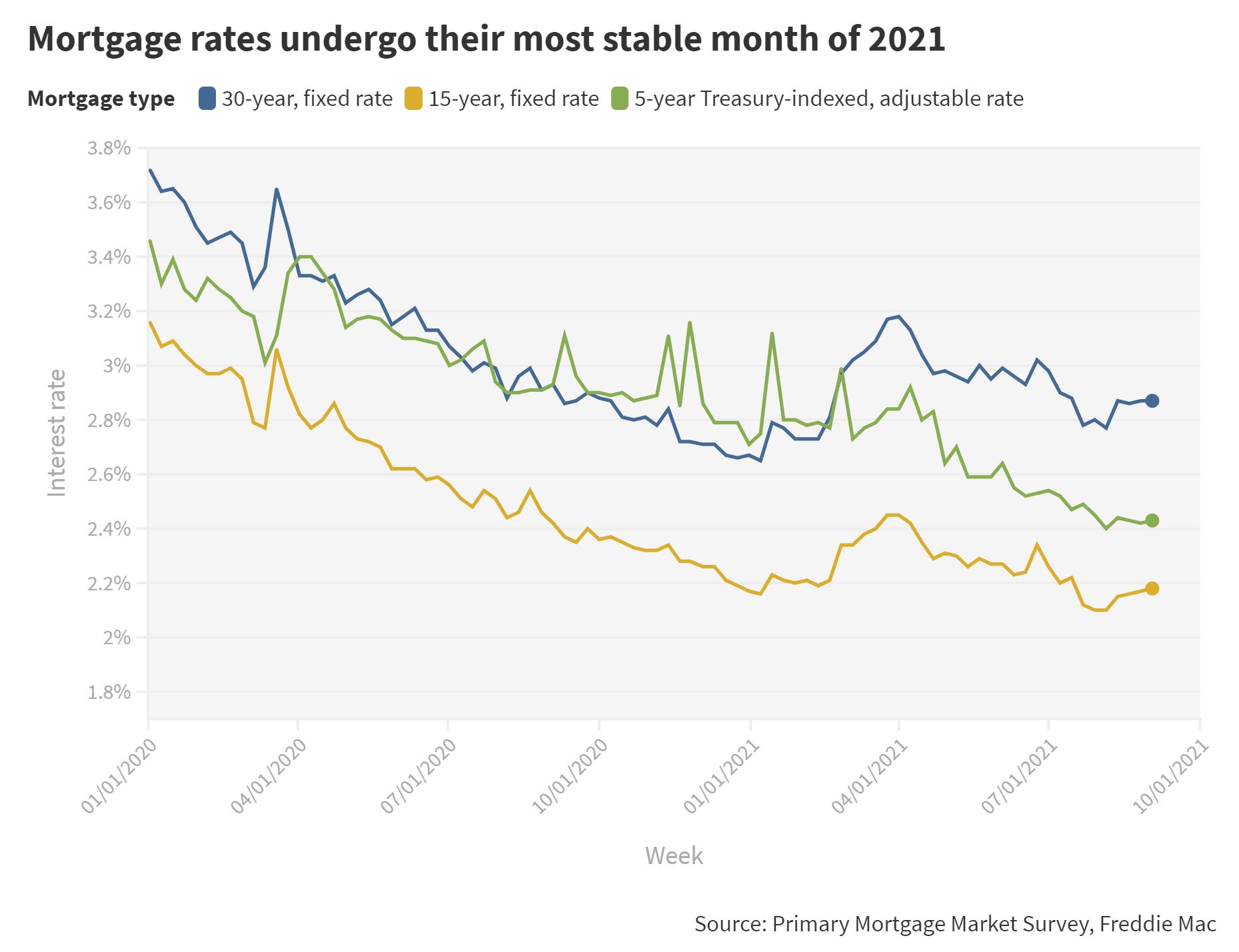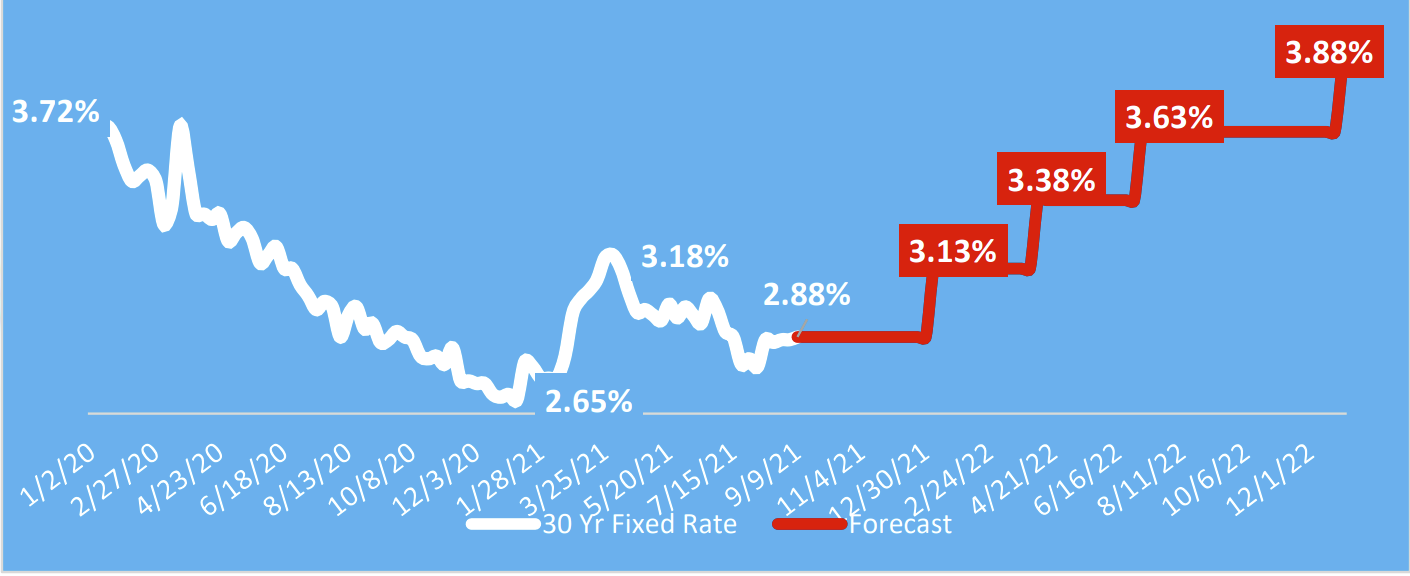 3. Increasing Home Prices By 10% Before Next Correction
Home prices today are off the charts after a 12% increase in 2020. For 2021 economists anticipate a 15% increase and are projecting a 5% increase in 2022 before the next correction. That means that from today to the next potential correction in early 2023, home prices will increase by another 10%. A healthy economy and healthy lending standards with only a few delinquencies will not allow for a collapse like we saw in 2006. Just a haircut of 5% is projected for 2023. (see #6 below)
4. Window Of Opportunity Is Closing
If a buyer or seller wants to wait and see what the market will do, the window of opportunity will close soon. If buyers wait too long, they may not want to buy during a potential downturn and at higher rates. At that point, buyers may want to wait until the correction is over – potentially until 2024/25. For a seller that means fewer buyers for their property. Given that market variations are a rear-view mirror event, timing the market is impossible.

5. Huge Financial Consequences When Postponing Home Purchase
Waiting for too long and potentially through the next correction will have financial consequences for buyers as well as for sellers.
a) Buyers have lost the opportunity for a better quality of life for themselves and their families by owning a home.
b) Buying a house sooner rather than later will protect buyers from losing equity. A 10% increase of home prices from today until the end of next year will more than offset the potential 5% drop in home prices.
c) Buying sooner rather than later will enable buyers to lock into today's low interest rates. Once interest rates rise, the buyer's purchasing power is reduced, having to settle for a smaller house next year.
d) There are tax advantages to owning a property.
e) Sellers should realize a buyer's motivation as it will help to sell their house. Sellers and buyers depend on each other. For all the reasons mentioned above, a seller should bring their home to the market now before it is too late and the market has turned.
f) Lastly there are advantages to owning vs. renting, since a portion of the monthly mortgage will go towards the principal. For example, on a $500,000 purchase with 20% down, a $400,000 mortgage at today's rate of 2.875% the monthly payment is $1,660/mo of which $710/mo or $8,520/year will go towards the principal.
If we are assuming that we are starting the correction some time in 2023 and are out in late 2024, a buyer purchasing now would have reduced their mortgage payments by $29,820 over the 3.5 year period equating to 6% on a $500,000 purchase.
In other words, buyers who wait and are buying in 3.5 years even under the same condition of today's home values and today's mortgage rates have actually lost 6% compared to those who bought today.
Consequently, one can also make the following statement: If home values actually rise another 10% before the next correction, today's buyer will have a 16% advantage compared to the buyer who waits. We will NOT see a 16% correction in the next downturn so a buyer WILL be ahead financially when buying soon.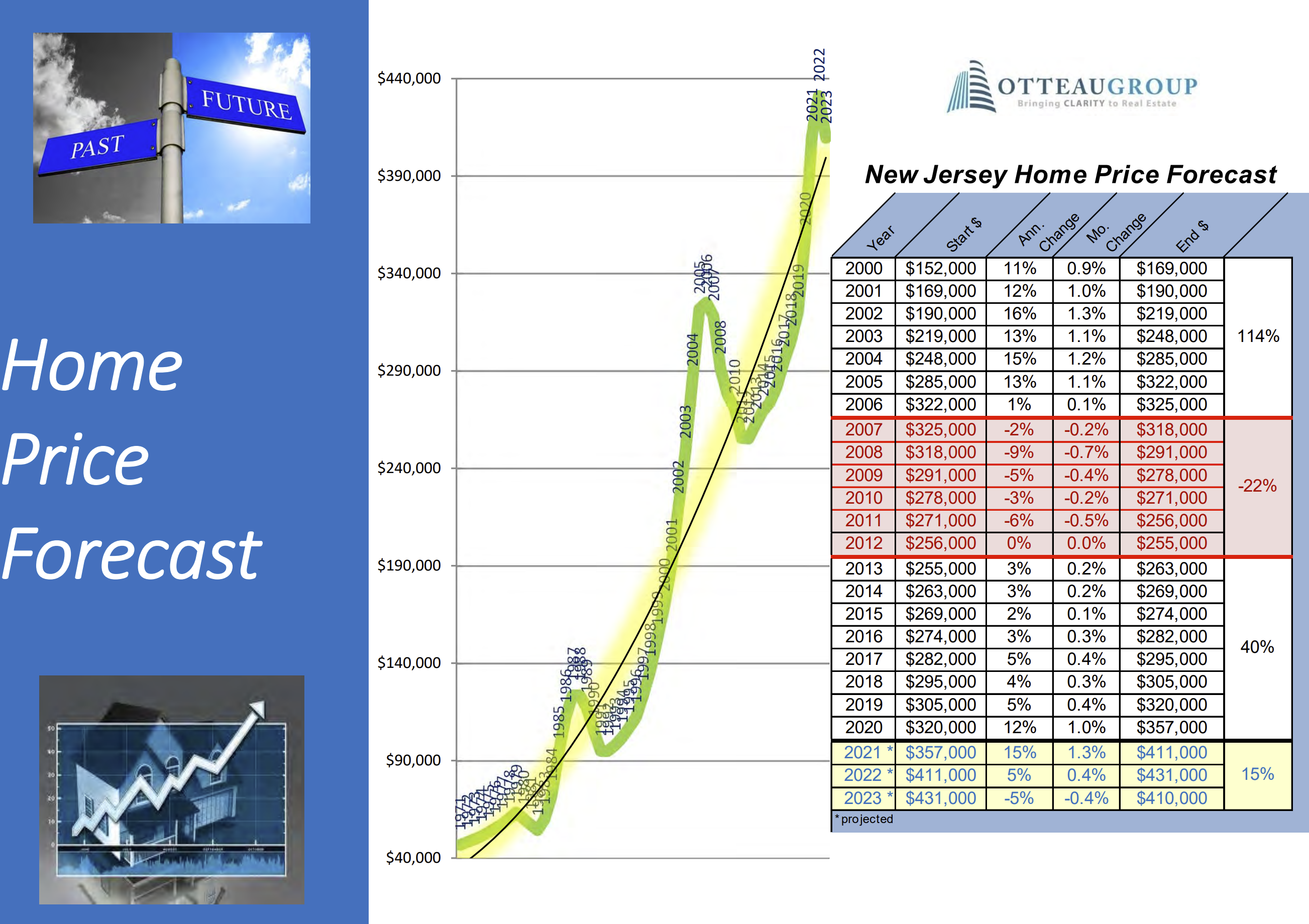 6. Reasons For A Mild Correction Compared To The Last One
There are a few reasons that will make the next correction much different from the last one.
a) For the first time in history we had rising home prices during an economic slowdown where unemployment rose.
b) The US economy is recovering from the effects of COVID faster than anywhere else in the world.
c) Unemployment will normalize by 2022.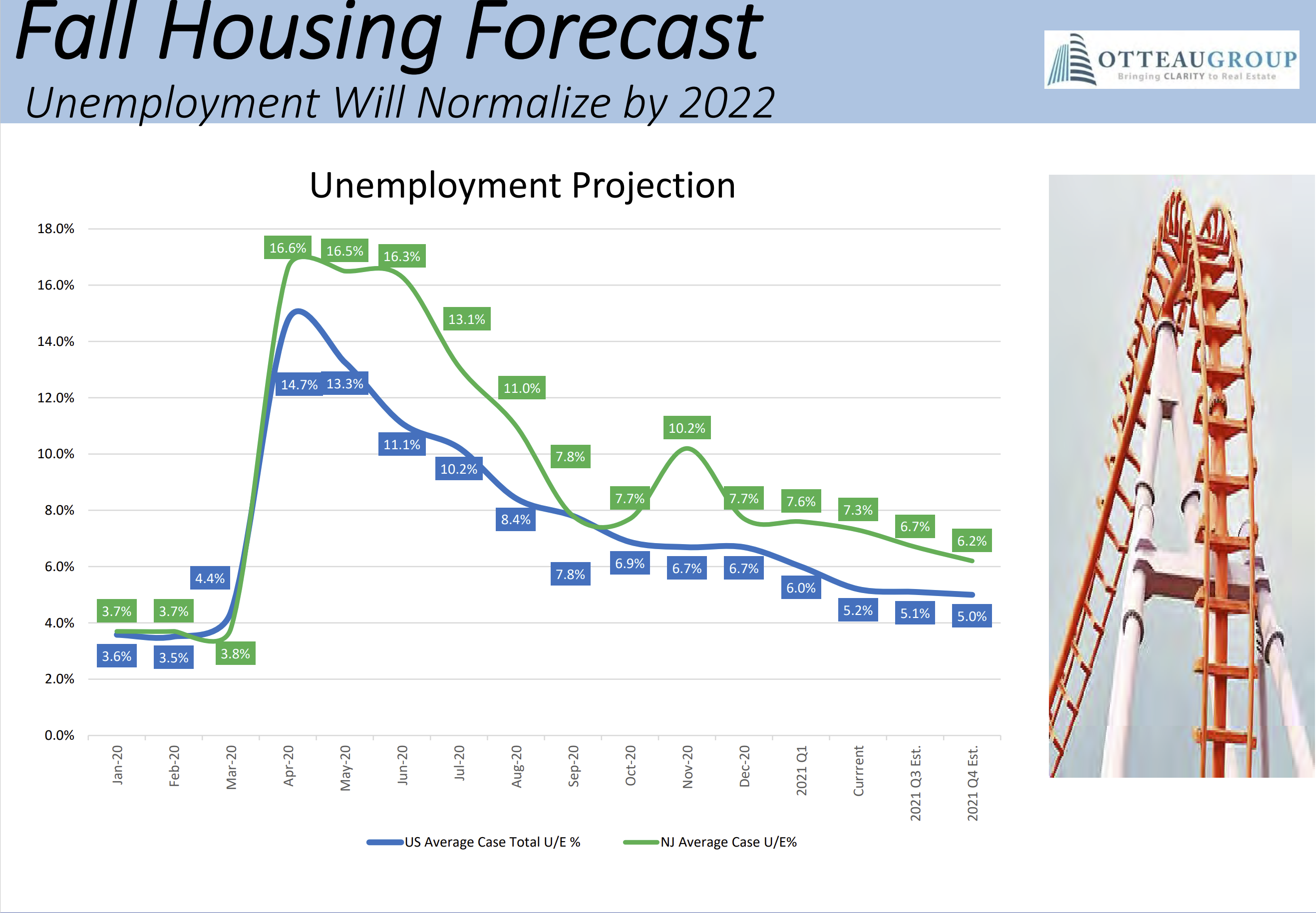 d) The mortgage industry is strong unlike the last time when it was saturated with subprime mortgage lending.
e) Mortgage delinquencies are 3 times lower now than during the last recession. With NJ home values rising 12% in 2020, 15% in 2021 and 5% in 2022, buyers who are delinquent on their mortgage payments will have equity in their homes due to rising home values. We will not see a wave of foreclosures like the last time.
The Bottom Line for Buyers:

Overall now is a good time to buy. Buyers need to know that being picky will cost you more money in the long run as they watch the prices go up. That property they initially passed up and wish they had bought? It's probably starting to look like a real bargain now.
The Bottom Line for Sellers:
It is important for a seller to understand a buyer's motivation. With a declining sales pace and rising interest rates in the not too distant future, sellers should consider selling now if they are thinking of selling within the next few years as we are still seeing rising home prices today. Buyers will pull back when the market cools off, at which point the seller has missed the opportunity. That means that the seller will chase the market, reducing the asking price as the market declines.